From time to time I get an error in LocStudio 4.8 that refers to the LocCultures.xml file.
Usually the error occurs when running the LocVer function, but sometimes the error occurs when editing a resource in LocStudio, and the content of the resource then cannot be changed.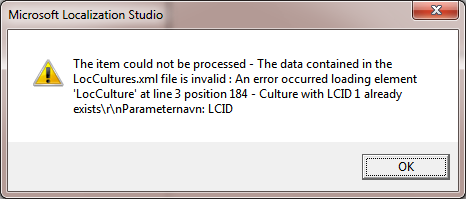 The error can easily be fixed by deactivating LocVer verification when translating:
Select Software > Project Settings with the EDB file open in LocStudio.
Select the Translation Tests tab.
Scroll to the bottom of the list, deactivate Verify Localization Rules, and then click OK.
My thanks to Peter for this tip.